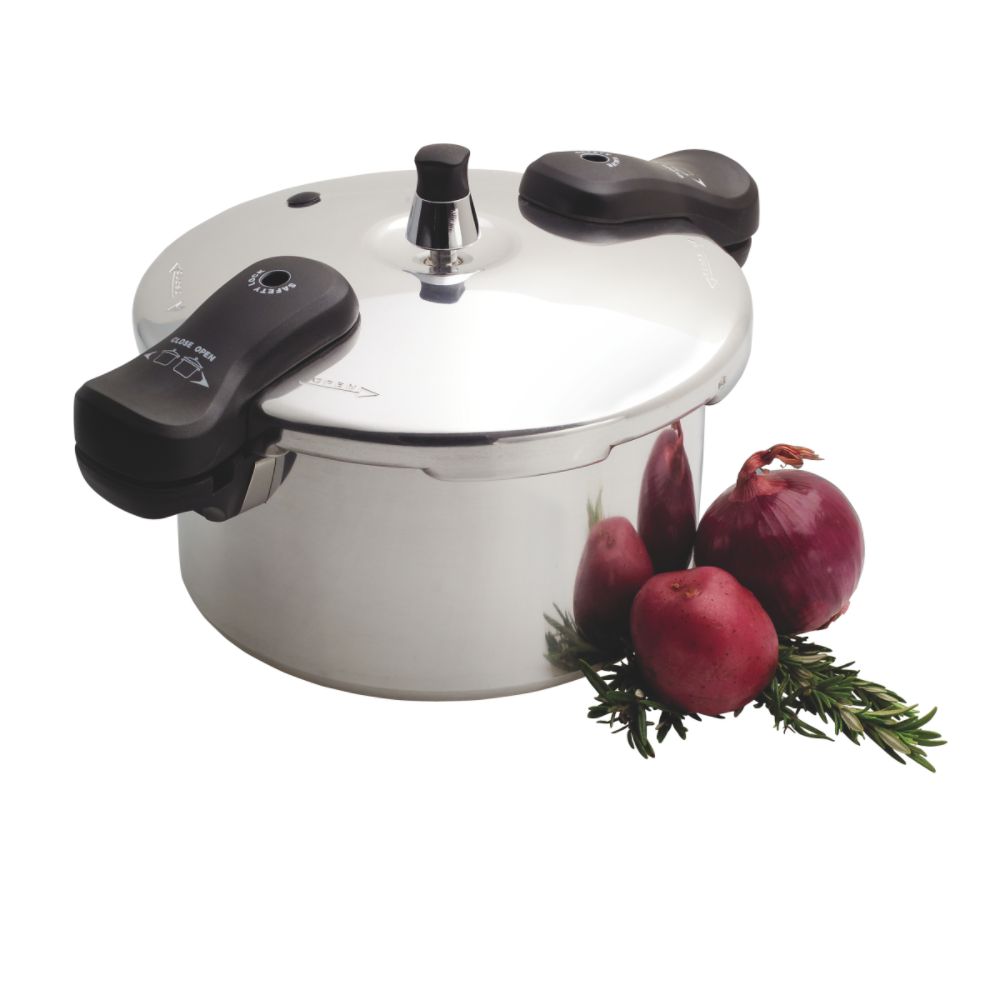 Growing up, my Mom taught me to be creative and thrifty – one of her haunts was the local Goodwill store.  Even late into her life, my Mom would proudly return from her trips to the Goodwill and do something creative.  But she also found good bargains on clothes, gifts, and various other great deals.  I've always had great loyalty to the Goodwill™.
That all changed yesterday.  Like I do sometimes, I stopped at our local store in Longview, to browse, explore, and decompress.  There is something about the browsing process that stirs my creative juices – and sometimes I find a killer deal. 😉
Yesterday, I thought I'd discovered one of those killer deals. There, on a middle shelf was a shiny, apparently new, but out of the box, pressure cooker.  The Wife had asked me to keep my eye open for a pressure cooker, and this one was only $24.99!  I called to check with The Wife, and sure enough, that's what she wanted – but she had another brilliant idea, that is to Google the pressure cooker and check the price.  Maybe this wasn't a $70 item after all.
My search revealed that I could get the same pressure cooker, new, and still in the box almost anywhere for the same glorious price of $24.99.  At this point, I figured the person who sets the prices also assumed this was a $70 pressure cooker, so I was still a Goodwill fan.  I asked to talk to the manager, and that's when things began to go downhill.
Not only did the manager show a total disregard for customer service, which was annoying at best, and foolish at worst.  When I explained that I could get the same cooker at Sears for the same price, and at Bed, Bath, and Beyond for $10 cheaper, she essentially explained that I could come back in three weeks and if it was still in the store, she'd reduce the price.
First of all, I am not going to wait three weeks to buy something that I could order from Amazon and have delivered within 48 hours. Second, I wondered, why would they intentionally price something at full retail price?  That's when it occurred to me, this is their strategy.  It's well known that the Goodwill™ takes in tons of donations and reduces prices over time in order to move older inventory.  But this is where I have a problem with this strategy.
Not everyone who shops at the Goodwill™ is armed with a mobile Internet device, nor do they have a brilliant spouse who recommends they use said mobile device to check prices.  Worse, the Goodwill organization has a strong reputation for looking out for the disadvantaged, but this policy of overpricing items seems to take advantage of those who are most inclined to shop at the Goodwill™.  It appears that the Goodwill™ markets itself as an organization that values providing opportunities for the disadvantaged, but at the same time preys on those who trust them to provide value-priced merchandise.
At this point, I see no reason to continue to supporting the Goodwill™ through my donations or purchases.
End of rant.